What is hot ice tea?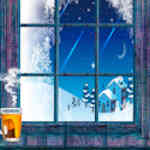 Hot ice tea is hot tea, with an ice cube in it
The ice cube is to cool it off
Now, you can drink it, and not have to worry about getting your mouth and your tongue scalded.
Do you believe this?
Is the BS or NOT?
You decide

---