How many "Ha's" should your fake laugh be until it is noticeably fake?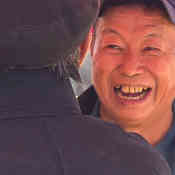 I can't understand why this is even a question.
Have you ever heard a laugh with only one "Ha"?
In answer to the question, the word "Ha" is a dead giveaway that it is a fake laugh.
People who are really laughing are laughing so hysterically, that they don't say "Ha", "Ha, .. Ha", or what the hell.
If you want to get technical, the answer is, just one "Ha" and put as much force as you cam behind it. That way, people will know you are full of it.
---