The dilemma of the almost escaped murder on death row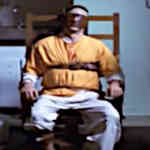 This is my problem.
Suppose a convicted murder on death row tries to escape. During the escape, he is shot by a guard and is in critical condition.
Then, a doctor treats him, and saves his life.
What's the point, if the court has already sentenced him to death?
---